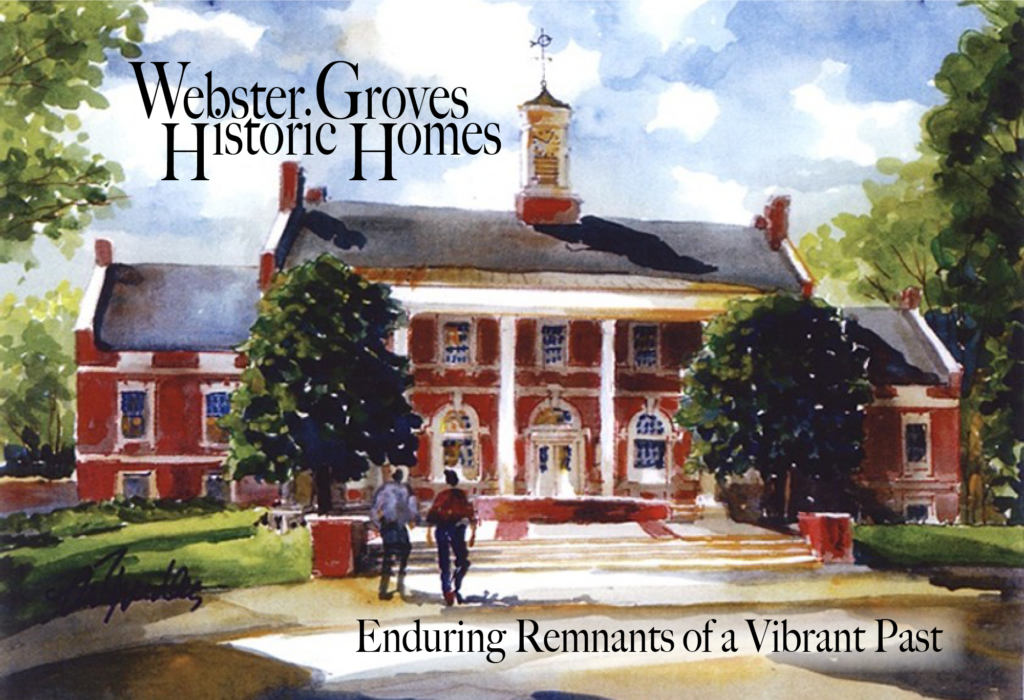 "Webster Groves is 'a very special place.' Ask anyone who lives there. Websterites are as loyal to Webster as Texans are to Texas; 43 percent of them have lived there more than 20 years, and a survey showed that 85 percent have no intention of moving."
That statement was written in 1975 on the dust jacket of a book titled "Webster Groves" and written by Clarissa Start.
 

Today, I would be willing to speculate that not much has changed all these many years later. Living in Webster Groves is more than just residing in another community in Saint Louis County. It's more of a state of mind - a Webster state of mind.
One of Webster's greatest assets is its wonderful, well-cared-for homes, many on expansive, tree-lined lots.
 

Less obvious is the incredible history behind many of these homes dating back more than one hundred, and sometimes even 125 or 150 years. It was a Saint Louis bedroom community that really began to flourish in the late 1890s. Many of the city founders are still remembered by Webster streets bearing their names.
This web presence is all about highlighting historic Webster homes, the original eight Webster Groves Walking Tours which were developed through the support of the City of Webster Groves and the Webster Groves Historical Society and first introduced in 2001, and the homes that have been designated as Century Homes since that time. Exhaustive research back then provides us with fascinating historical insights into Webster's past today.
The tours guide walkers through Webster's oldest neighborhoods and briefly describe some historically significant homes and their original owners. Each tour is about two miles long and features between 35 and 70 homes.

To augment the original written brochures listing the home descriptions and maps of the eight routes, we are now photographing each of the homes, digitally enhancing them so they appear as watercolor paintings and recording the historical descriptions as short audio files. The intent is to update the walking experience allowing you to "follow along through the past" on each tour using your smart phone to guide and inform you.
This Webster Groves Historic Homes website will be a work in progress. Since 2001 when the tours were first introduced, hundreds more homes have become "Century Homes." New home profiles, beyond the tours, will be added as researched. This technology allows the journeys to be taken virtually, too.
If you happen to live in one of these special homes, you are an important part of Webster Groves' history by virtue of your home ownership. You are a Steward of Webster Past. You have been granted the honor of caring for an important part of Webster's history during this era so that it will be available for the appreciation of generations to come.
Please explore this website, enjoy these delightful walks through the past and savor a remarkable history that has made Webster Groves what it is today and will be long into the future.
Bill and Diann Wichman - Website Curators